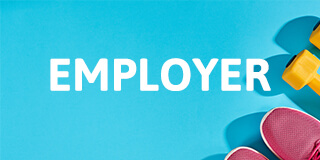 Start Using WhyFit as an Employer
To follow along, go to the WhyFit web app.
Also, for a peek into the awesome employee experience on WhyFit, check out the employee guide here.
1. Signup
Create your WhyFit employer account. If you already created a regular account with WhyFit, make sure to use the same email and password and your account will be automatically updated.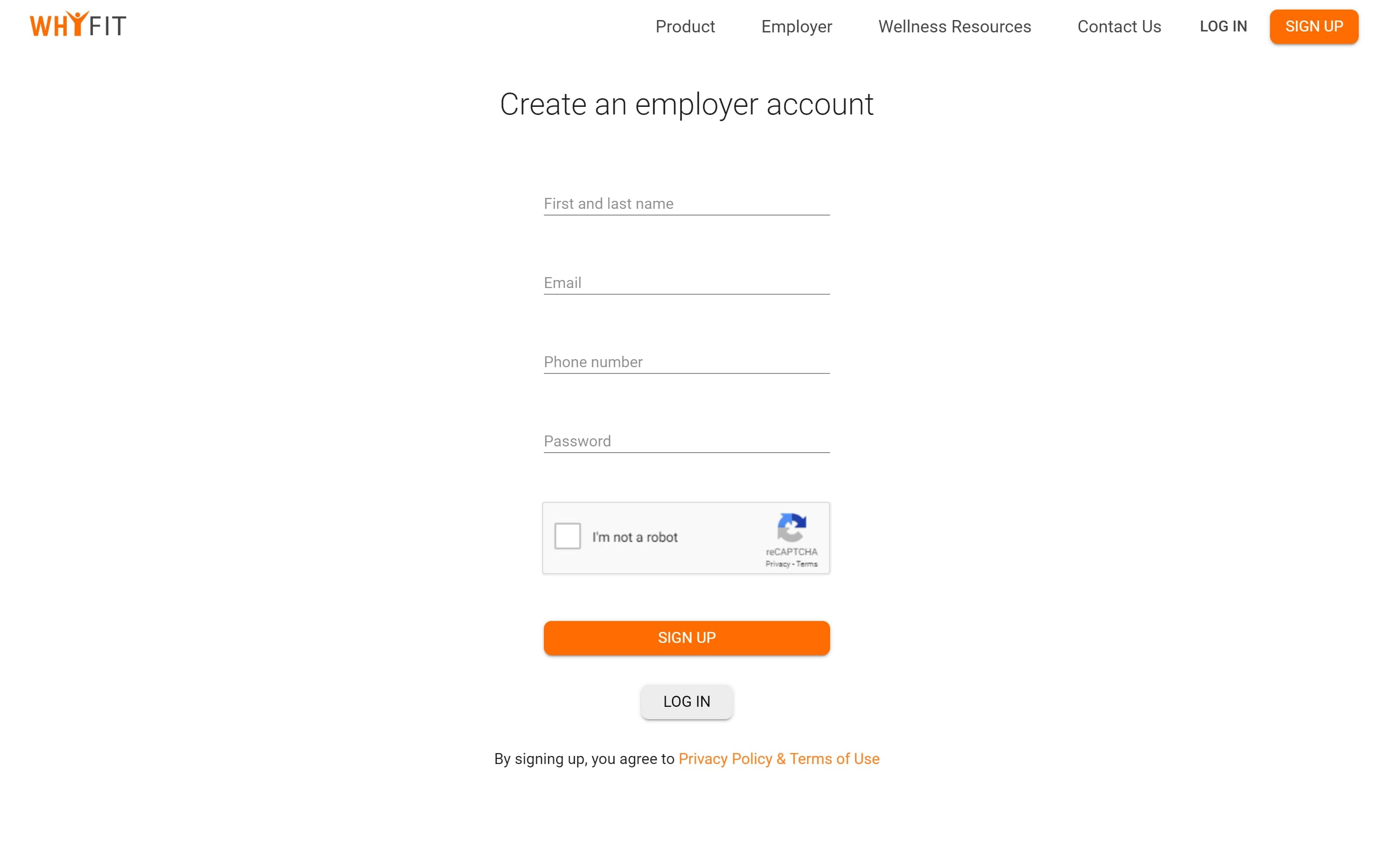 2. Create your organization
Great! Now, you should have access to our wellness management platform. "Your organization" will appear on your home screen in the upper right corner. Click on it and then click "manage organizations".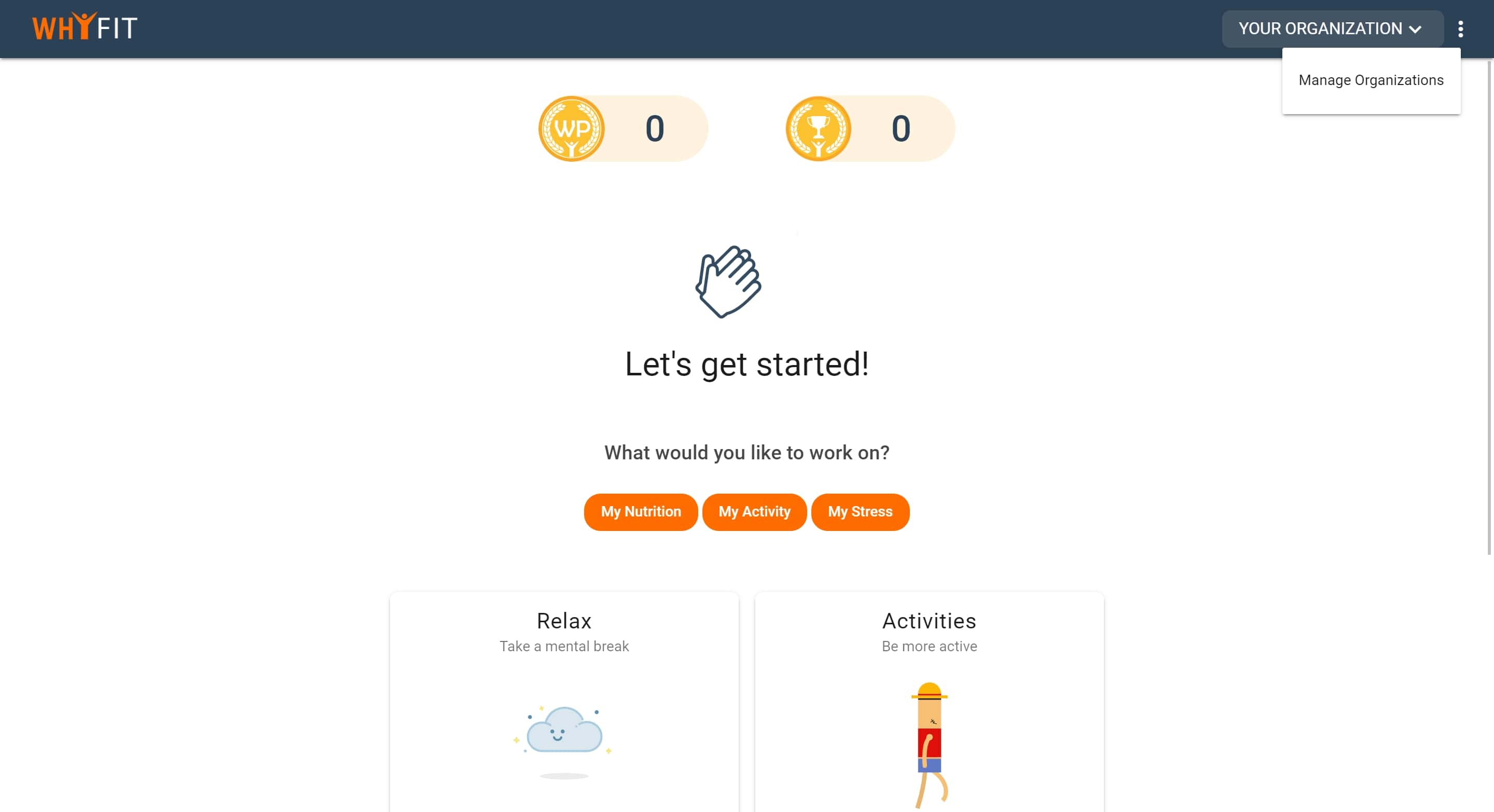 Once you are in Manage your organizations, click on "add organization" to create a new organization.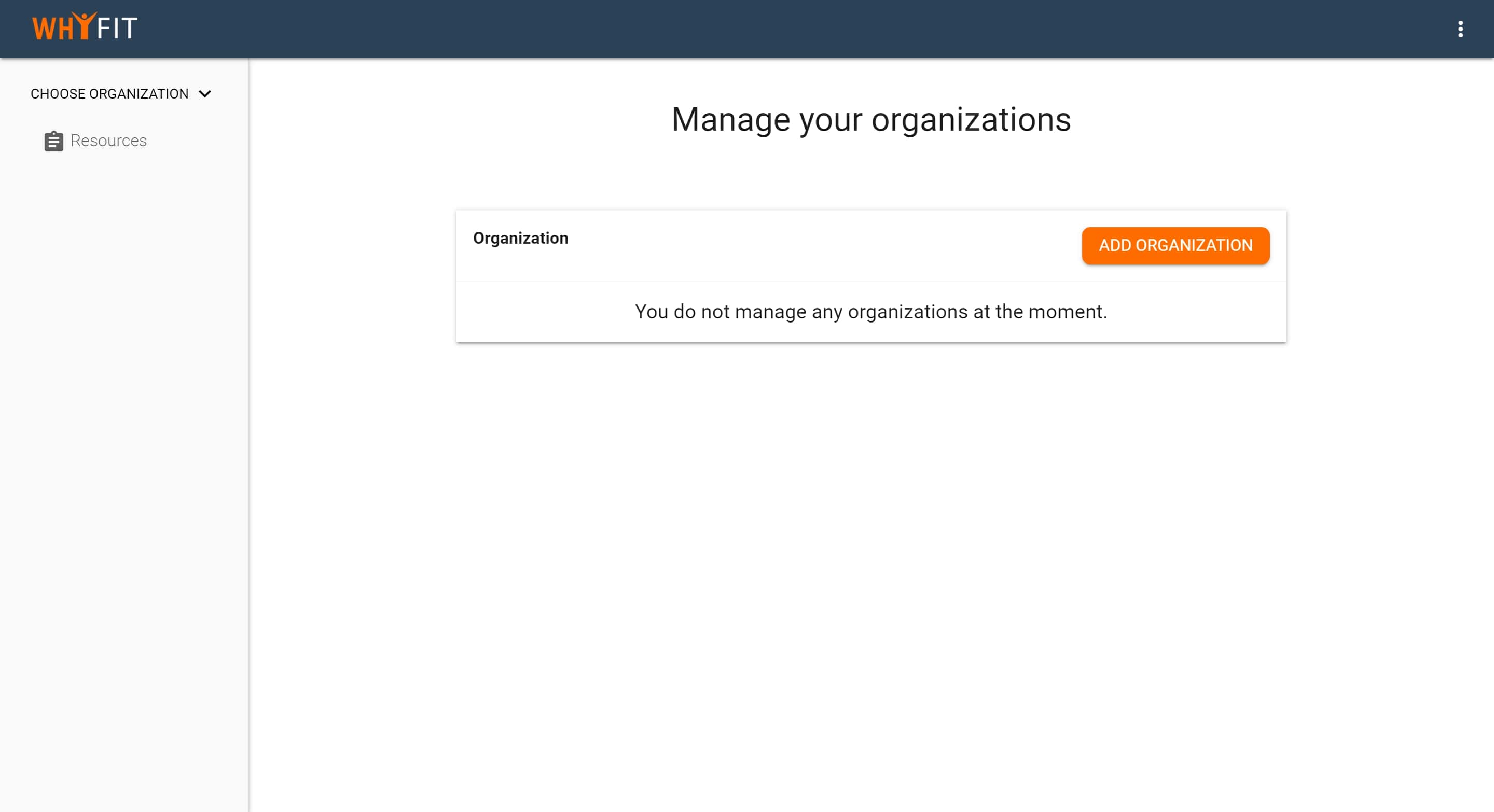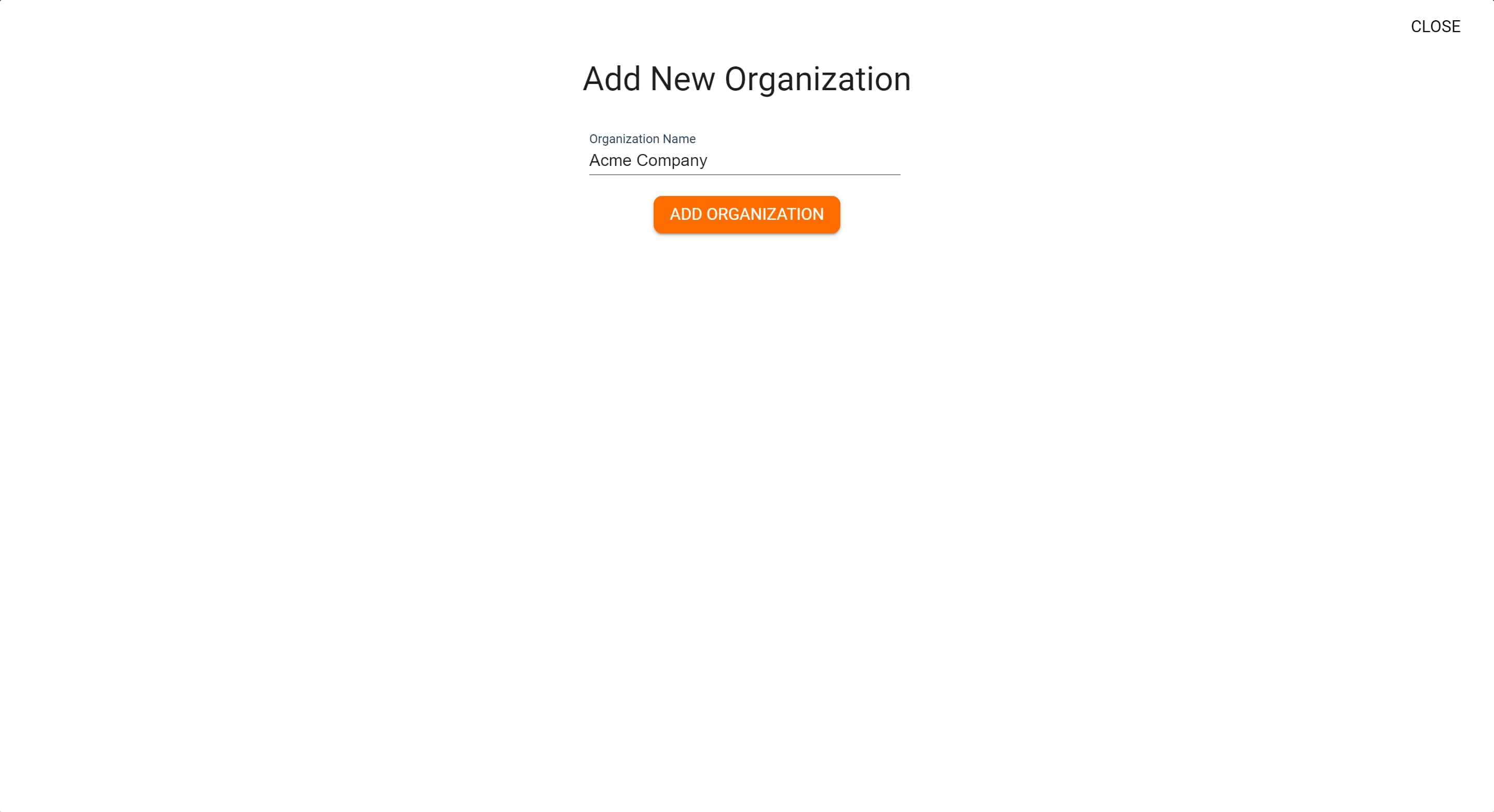 Type the name of your organization and click "add organization". You will see your new organization's name in Manage your organizations.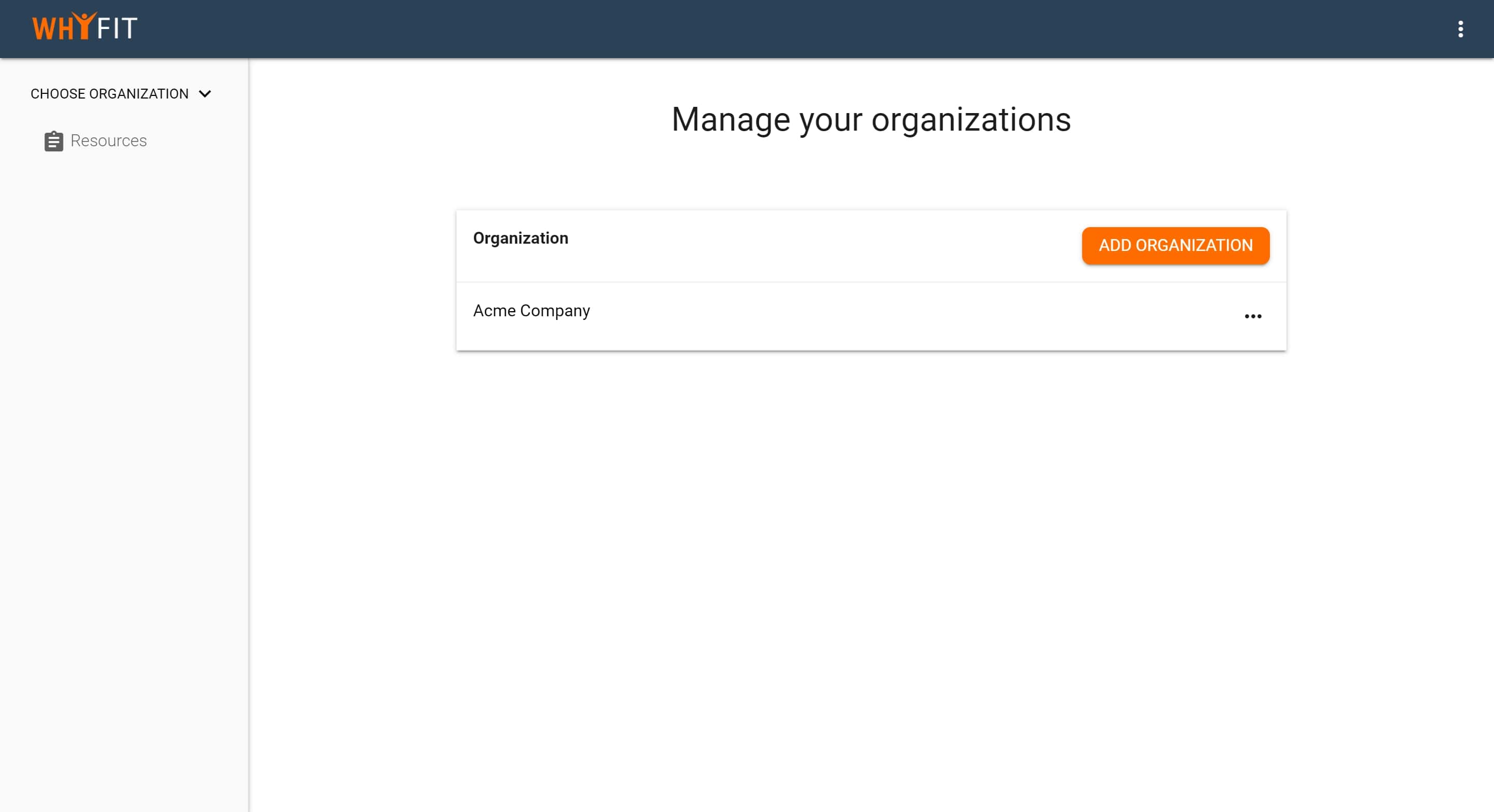 3. Schedule wellness initiative
To schedule a wellness initiative at a company, click on "manage your organization" and click on your company's name.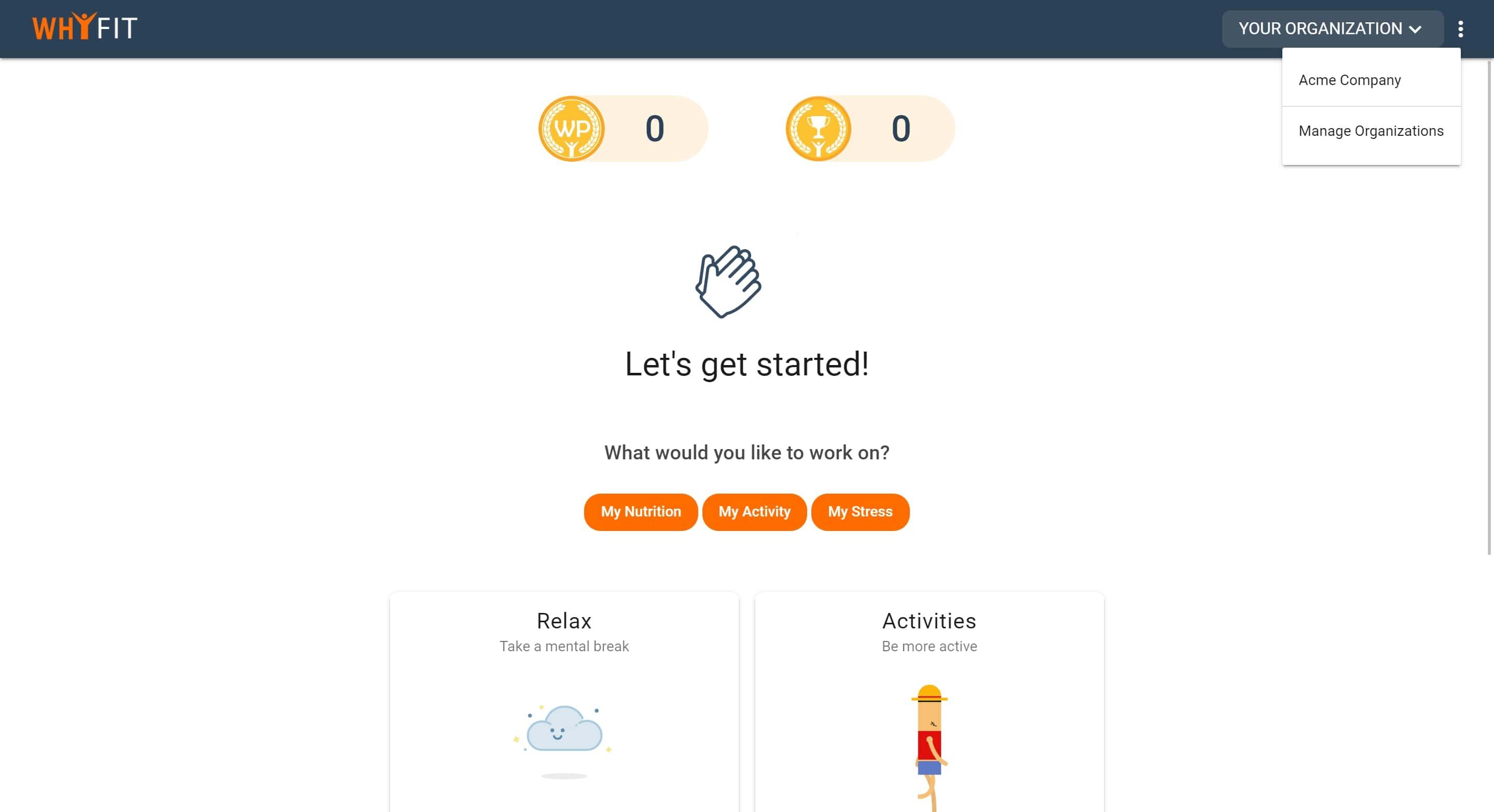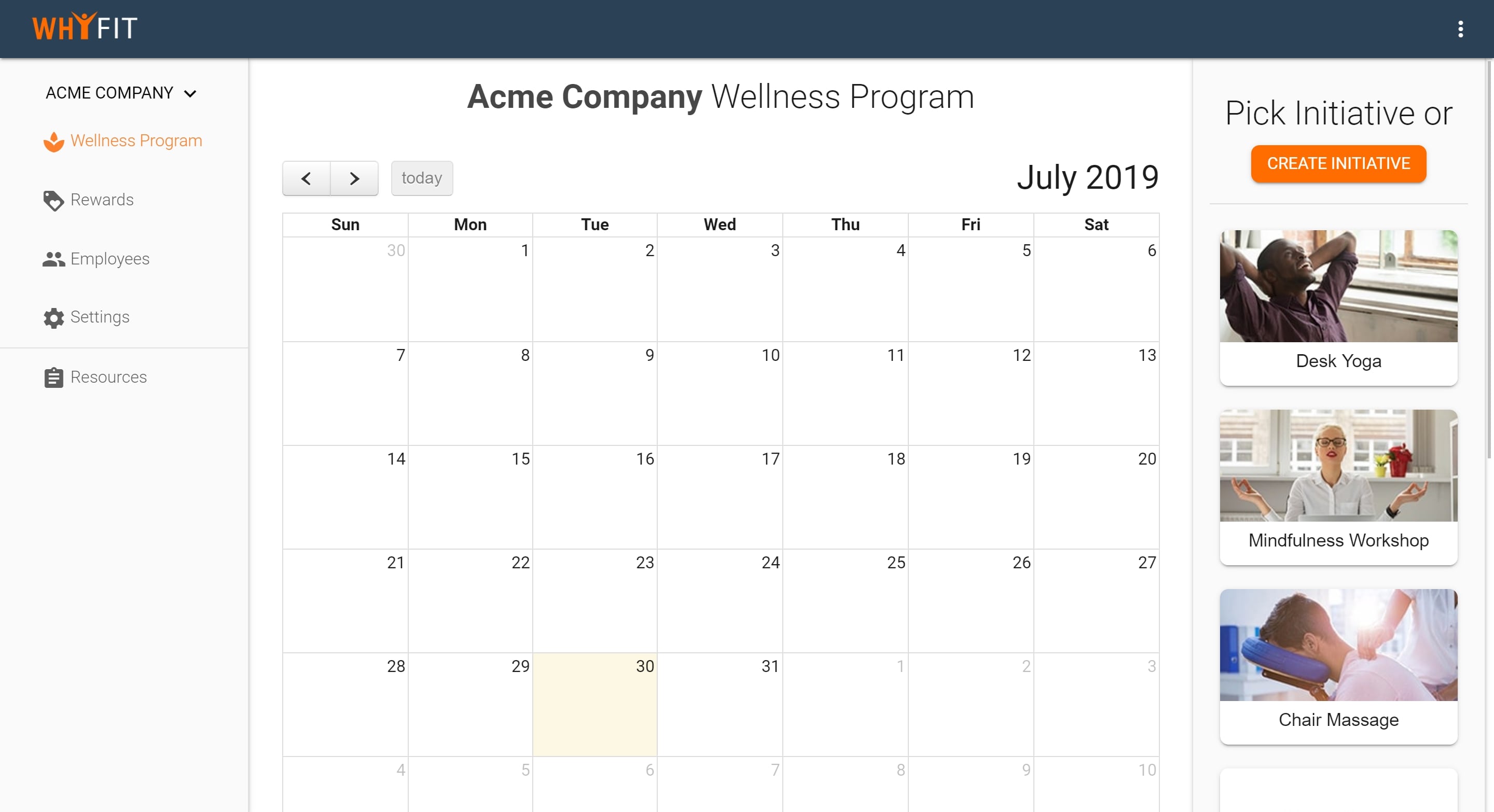 This is where you will manage your wellness program. On the right side of the screen, you can choose wellness initiatives that you would like to implement at your workplace. You can click on any initiative to see details. Choose an initiative and select the date and location under the input options. If there is no specific location, simply type N/A.
You will receive an email from our WhyFit team with details and instructions on your initiative.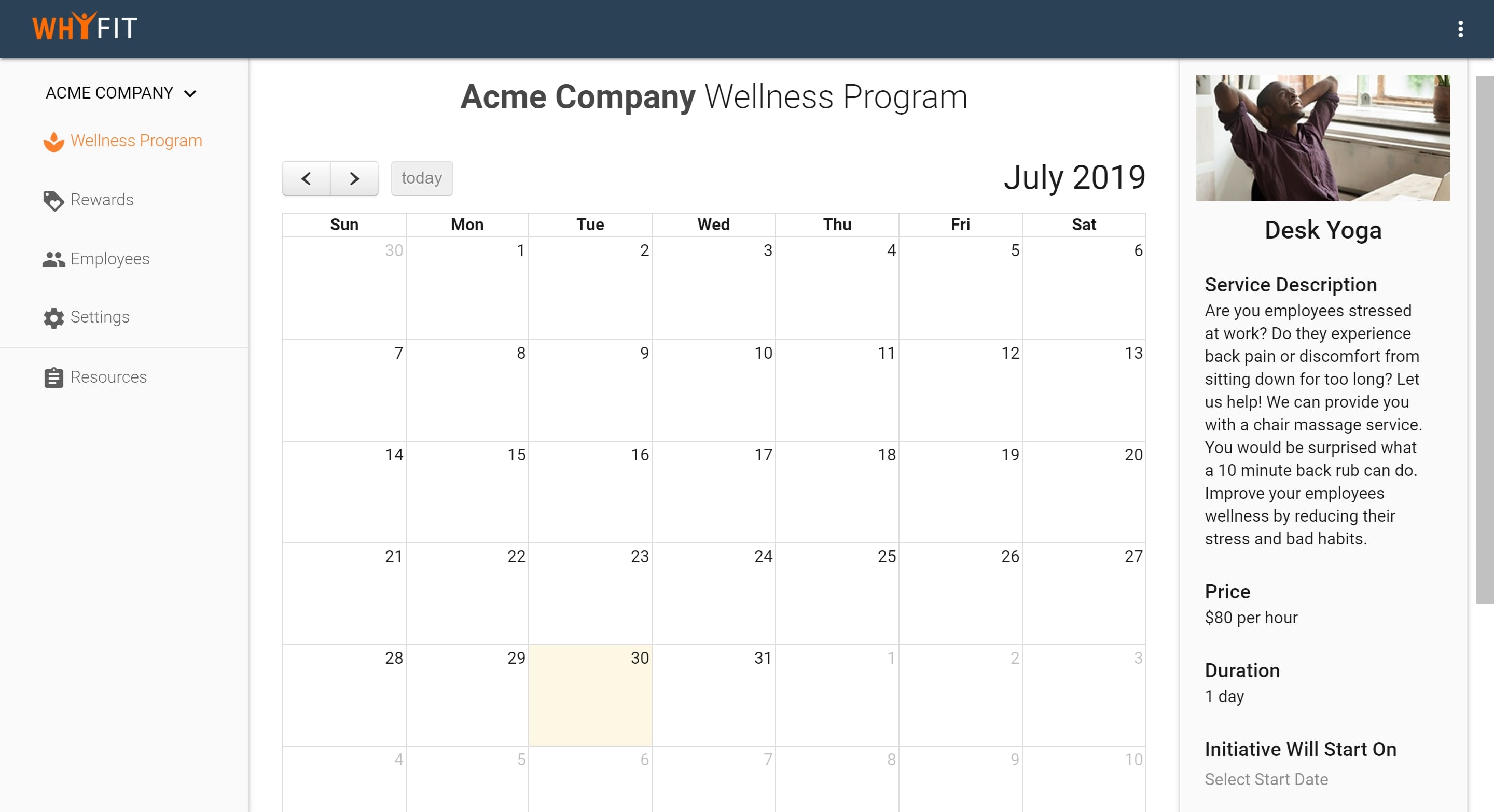 Your initiative will show up in your program calendar. Initiatives will show up for your employees on their employee dashboard seven days prior to the start date of the initiative. If you chose an initiative that involves one of our vendors we will send you an email to confirm the details.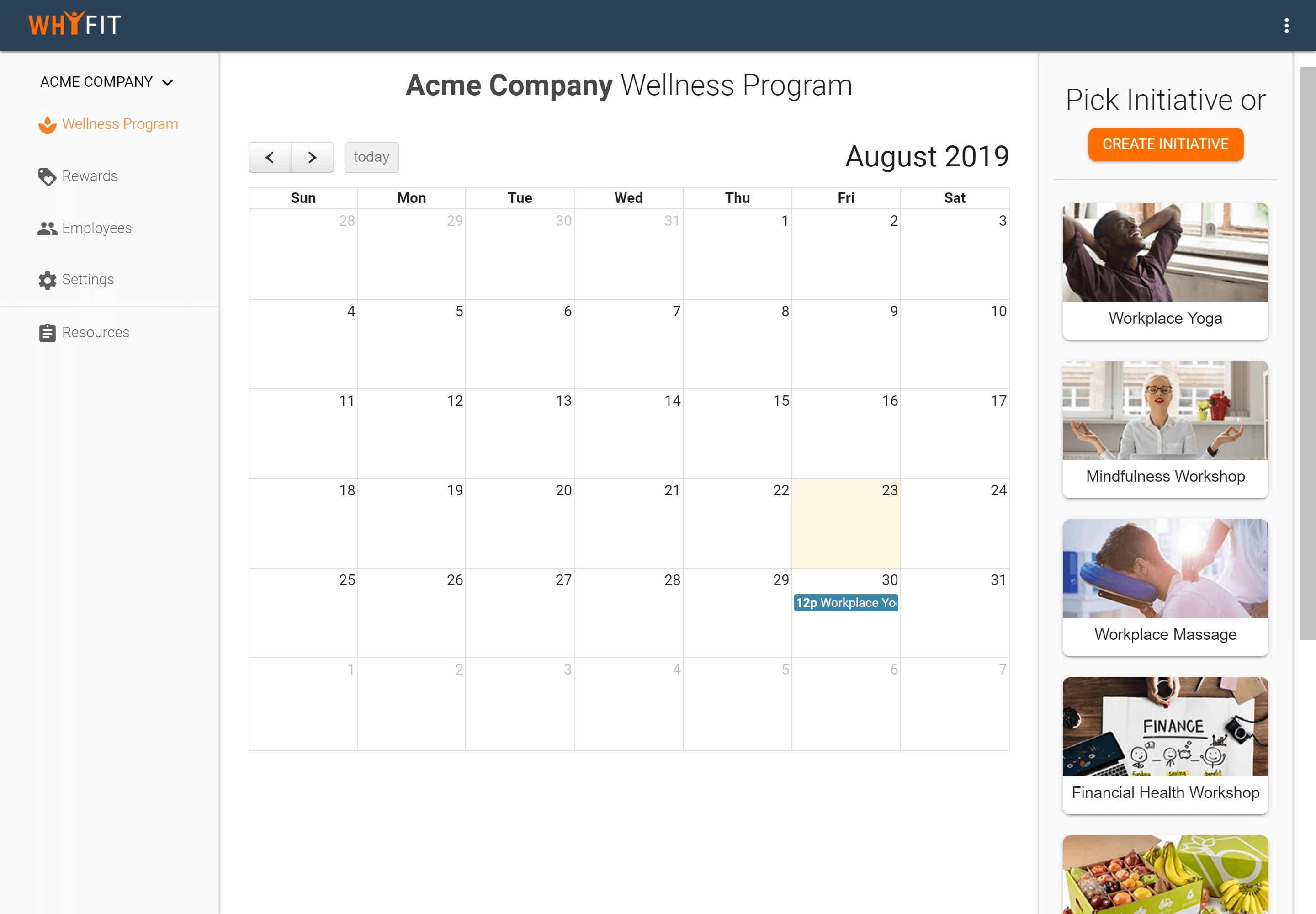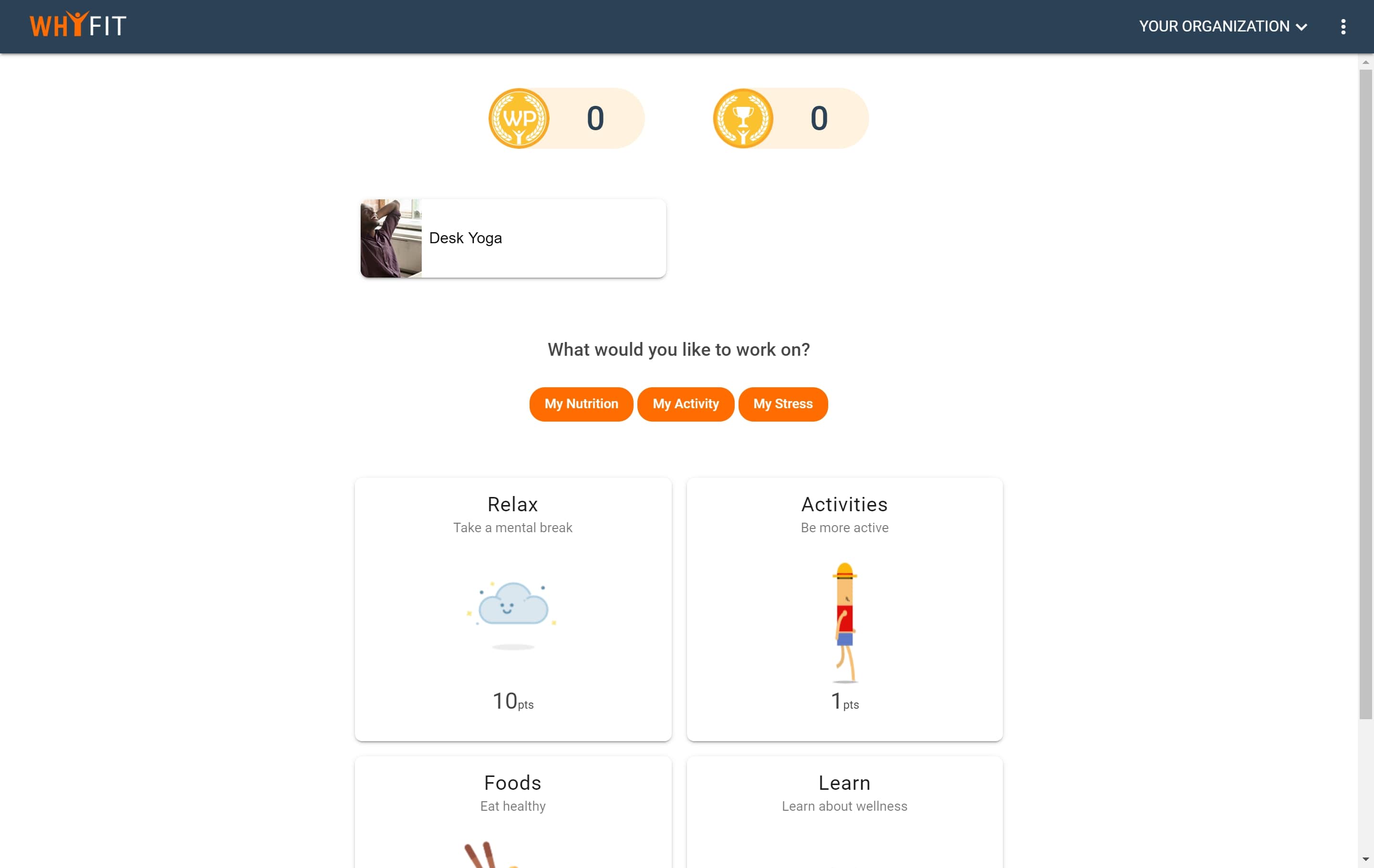 Don't worry, changes can be made! Click on the scheduled initiative and edit your options on the right side column of the screen. Don't forget to save!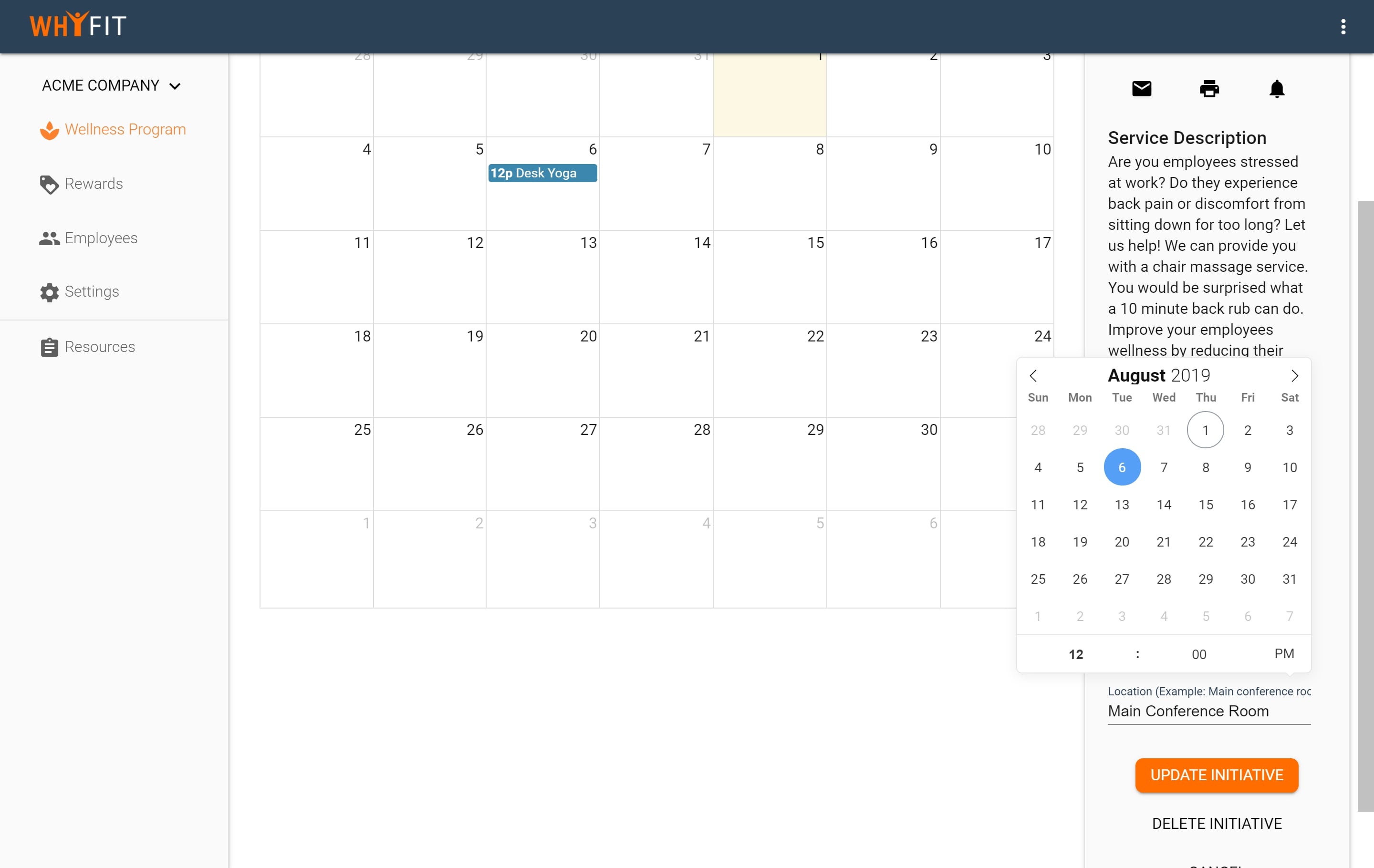 4. Offer rewards to employees
You can offer rewards to your employees to incentivize them for participating in your wellness program. To do this, simply click on the rewards link on the left side column.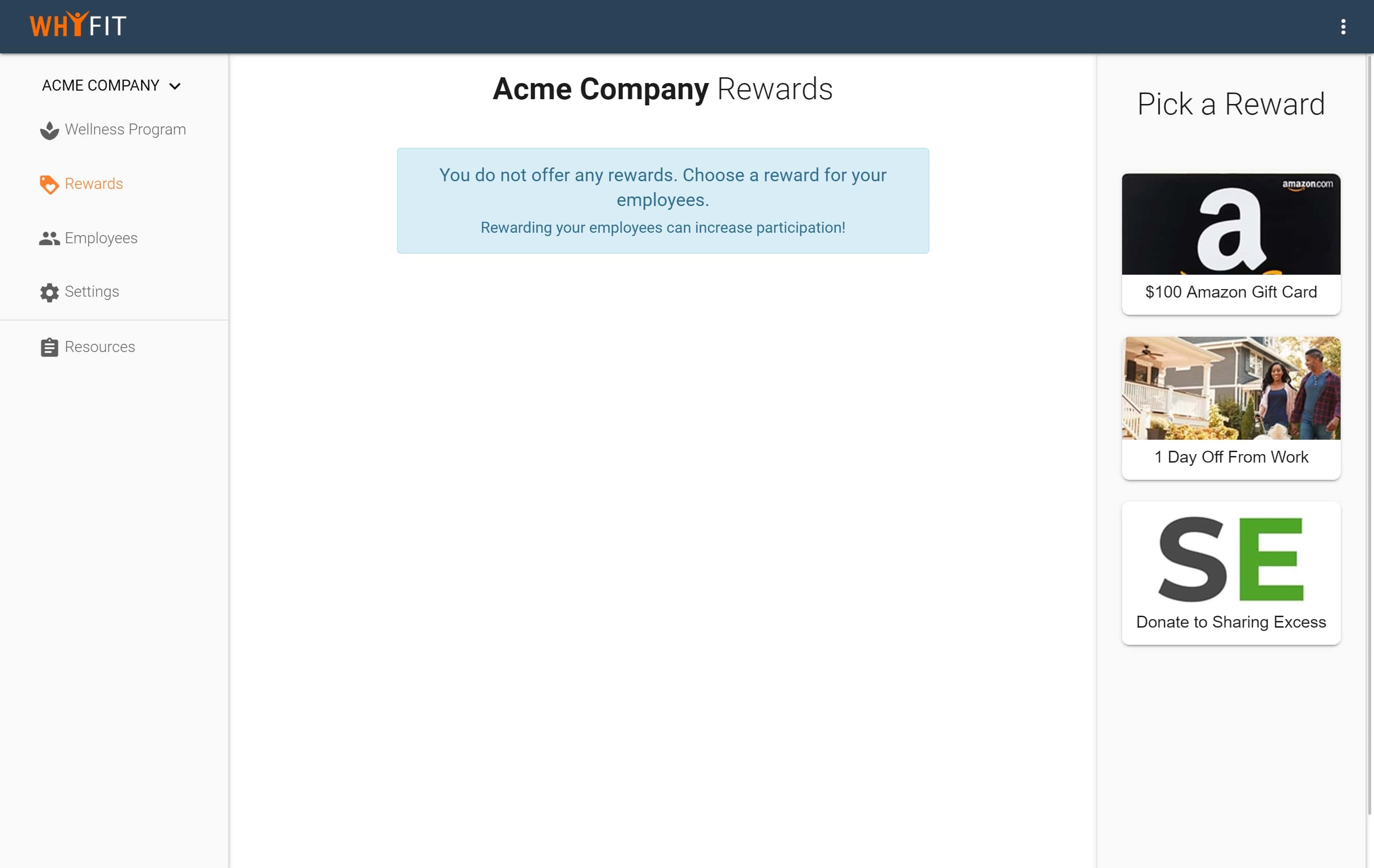 You can choose from multiple rewards, but be sure to budget accordingly because most rewards have costs associated with them. You can set the amount of points your employees need to collect in order to redeem a reward. Contact your account manager to help you choose rewards.
Once a reward is set up, you will be contacted by the WhyFit team to share details and following steps.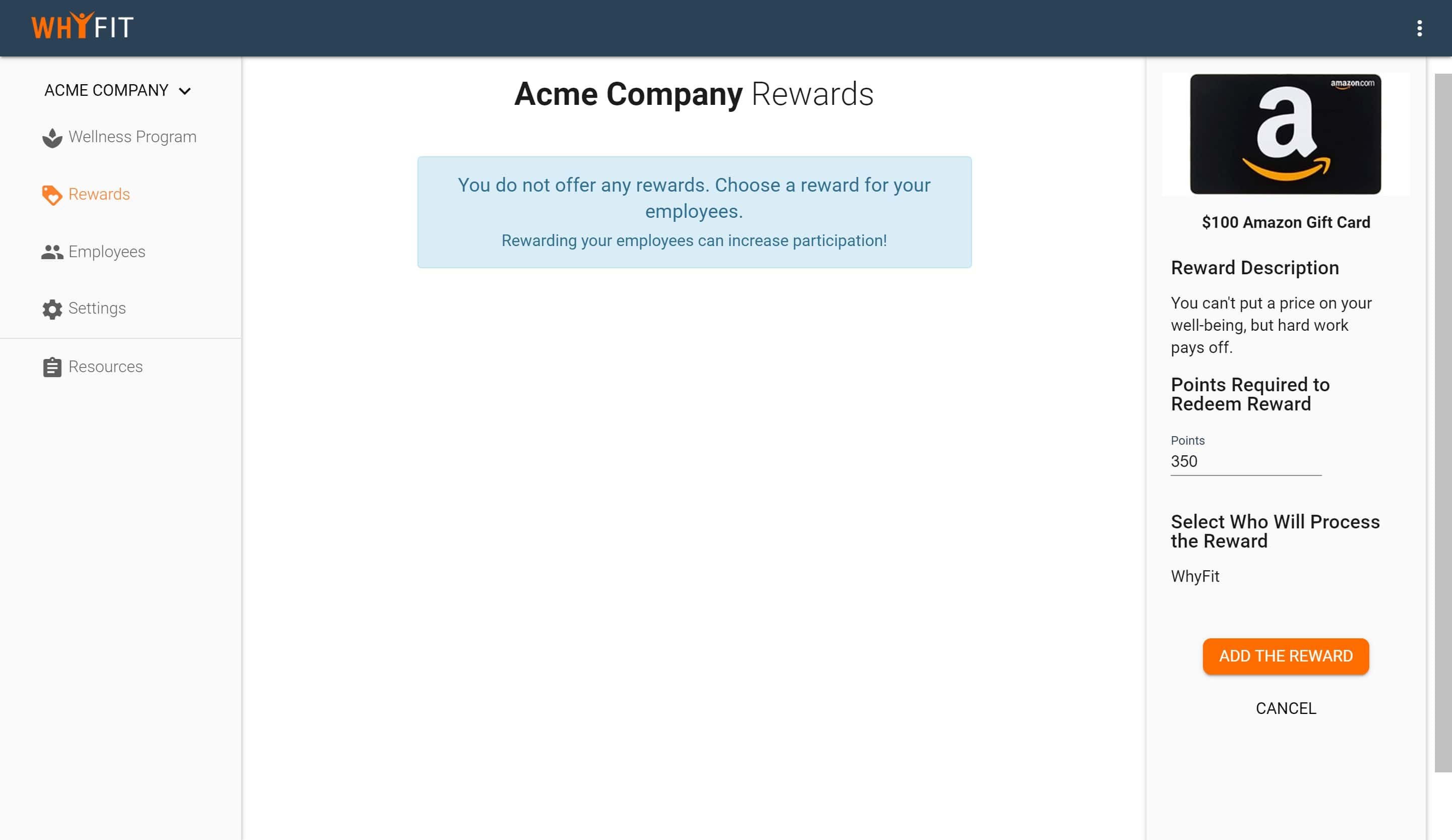 If you decide not to offer any rewards for your employees, we will we offer a drawing once a month for every WhyFit user to participate in and win a reward.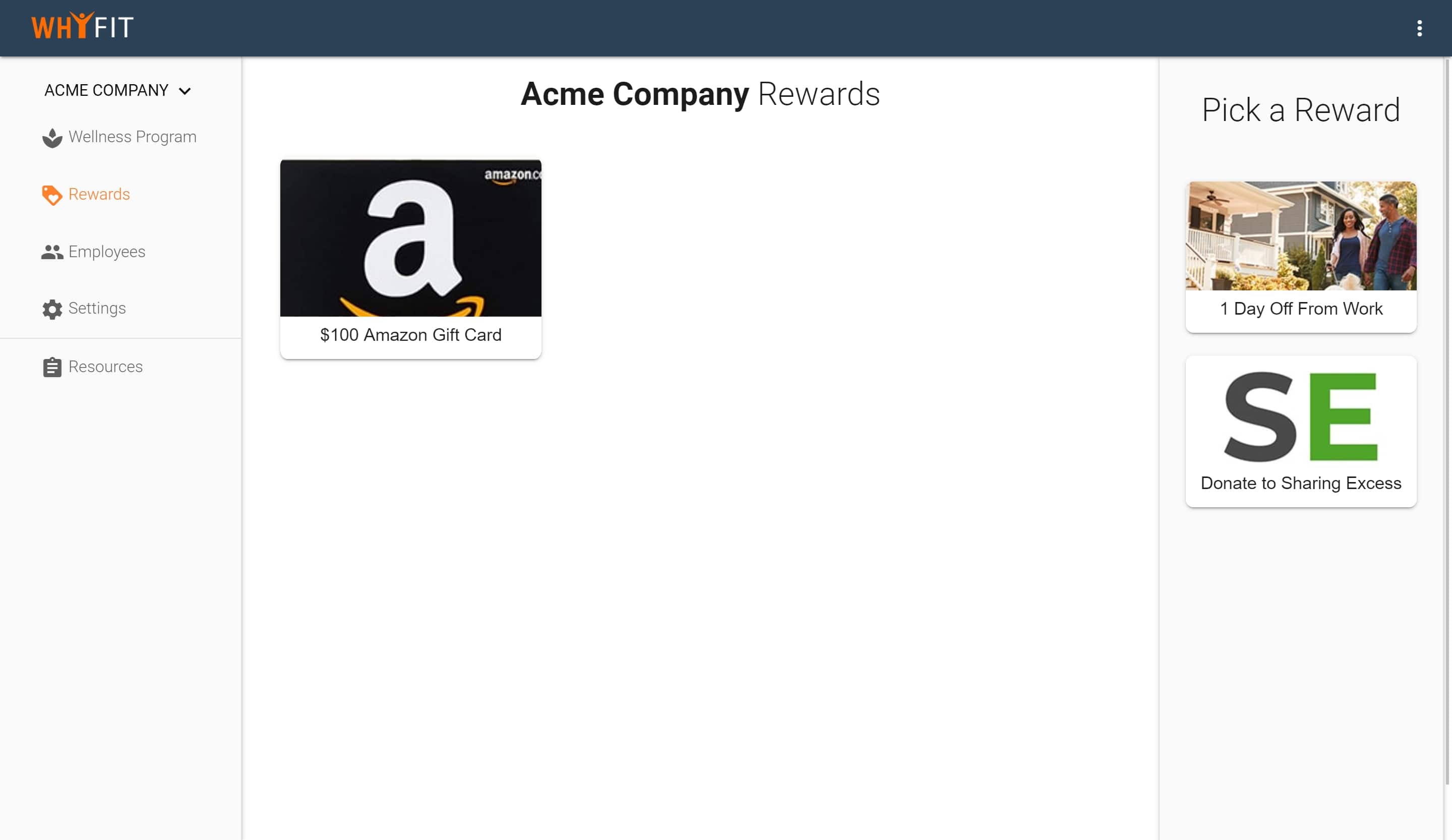 5. Invite employees
To invite employees to your organization, click on the employees tab on the right side column of your screen.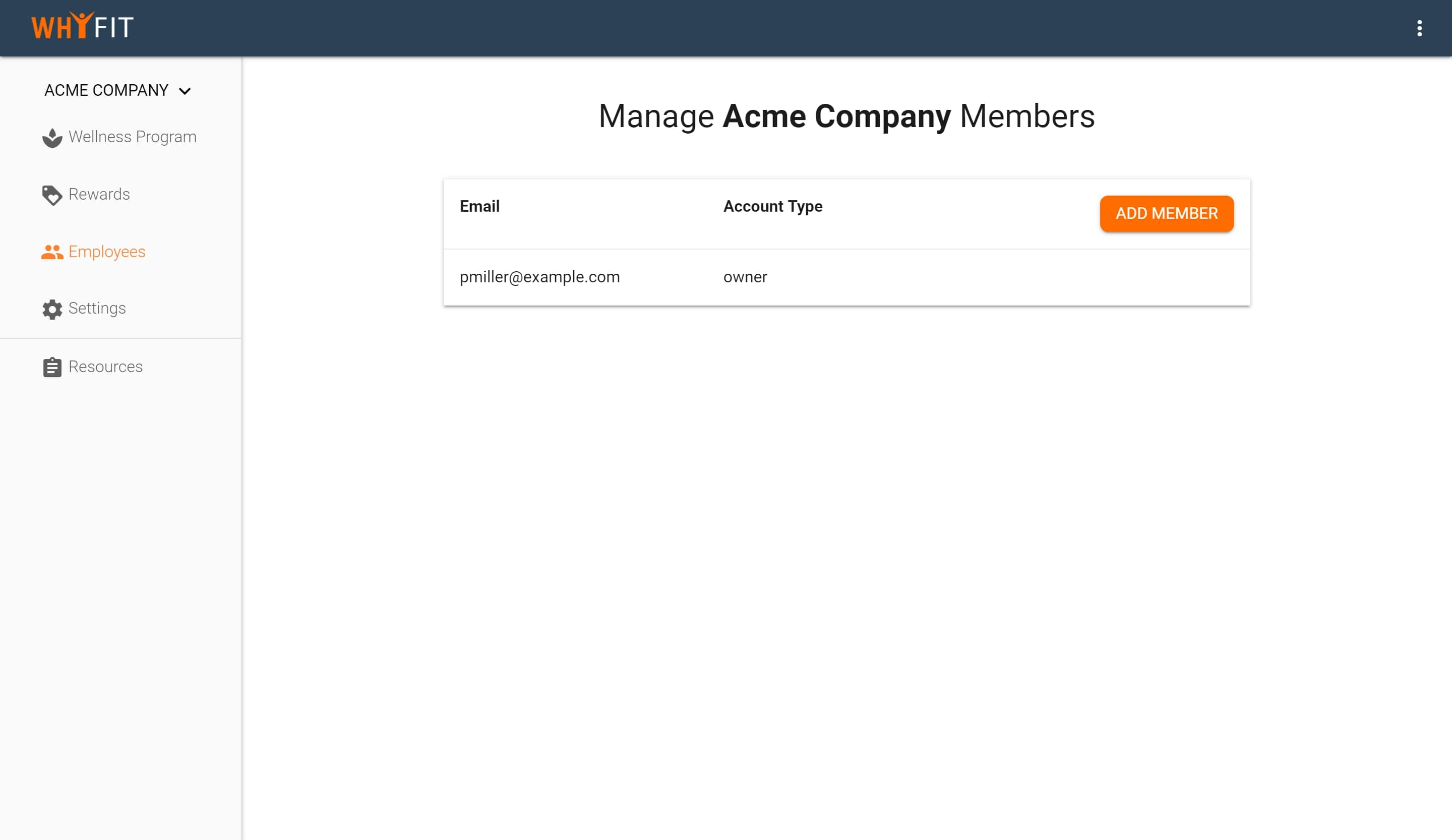 Click on "add member". A window will pop up where you will be able to add email addresses of your employees. Click on "add another" to add multiple emails at once, or "add many at once" to input all email addresses. Make sure to separate each email with a comma. Example: jondoe@example.com, somethingelse@example.com, andonemor@example.com,...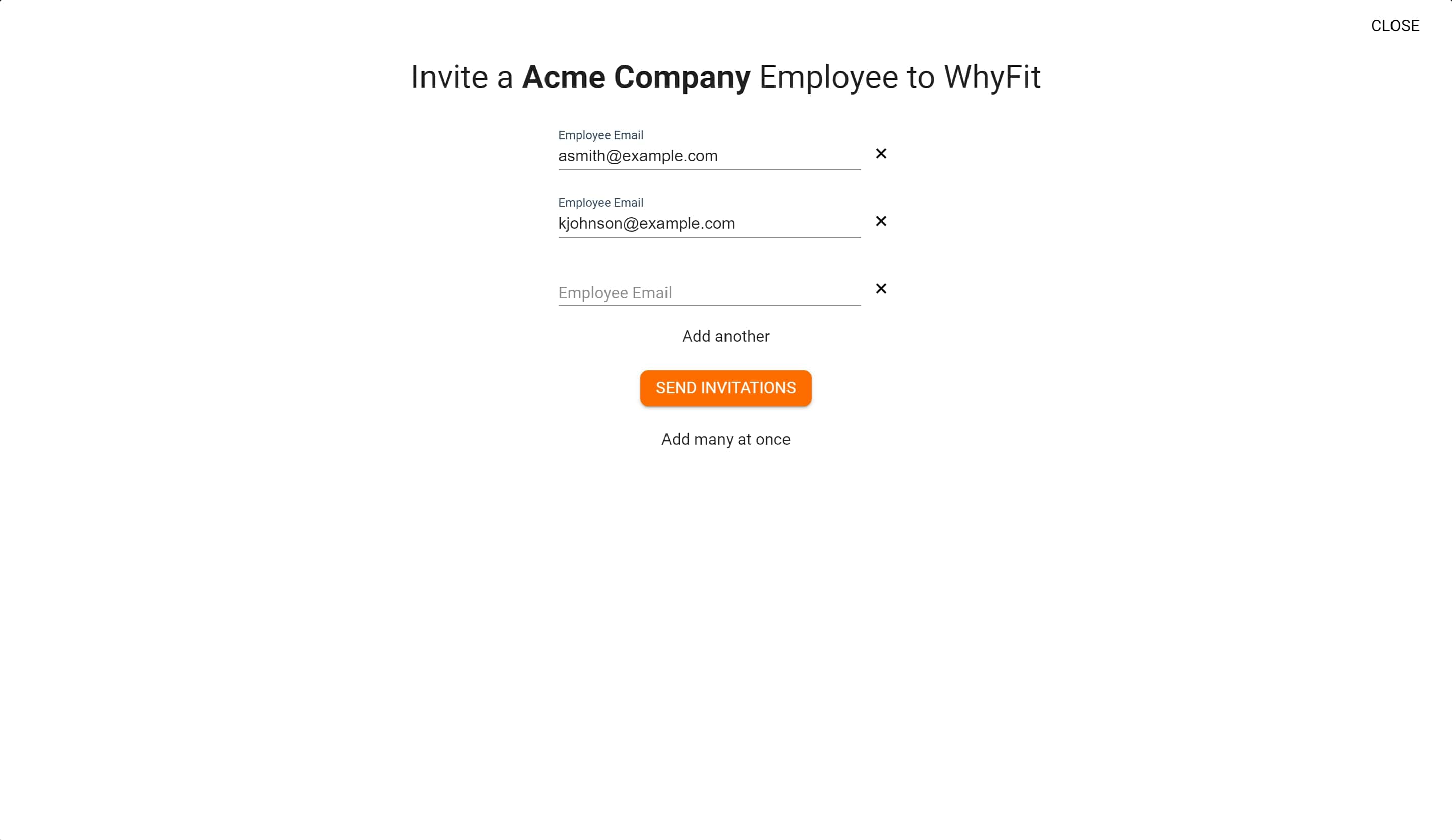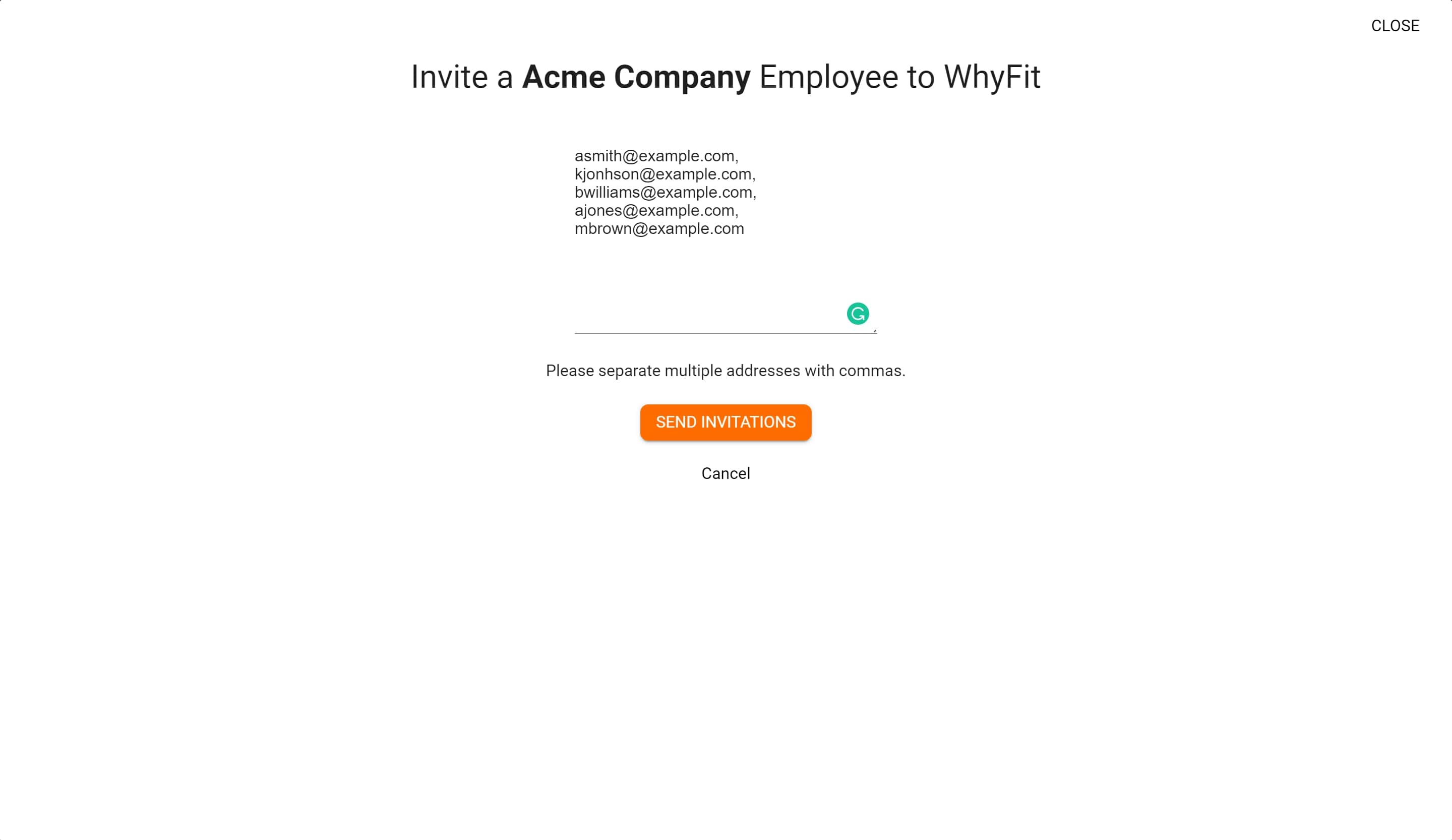 Once you have inputted all employee's email addresses, click "send invitations". Your employees will automatically receive an invitation to the platform via email.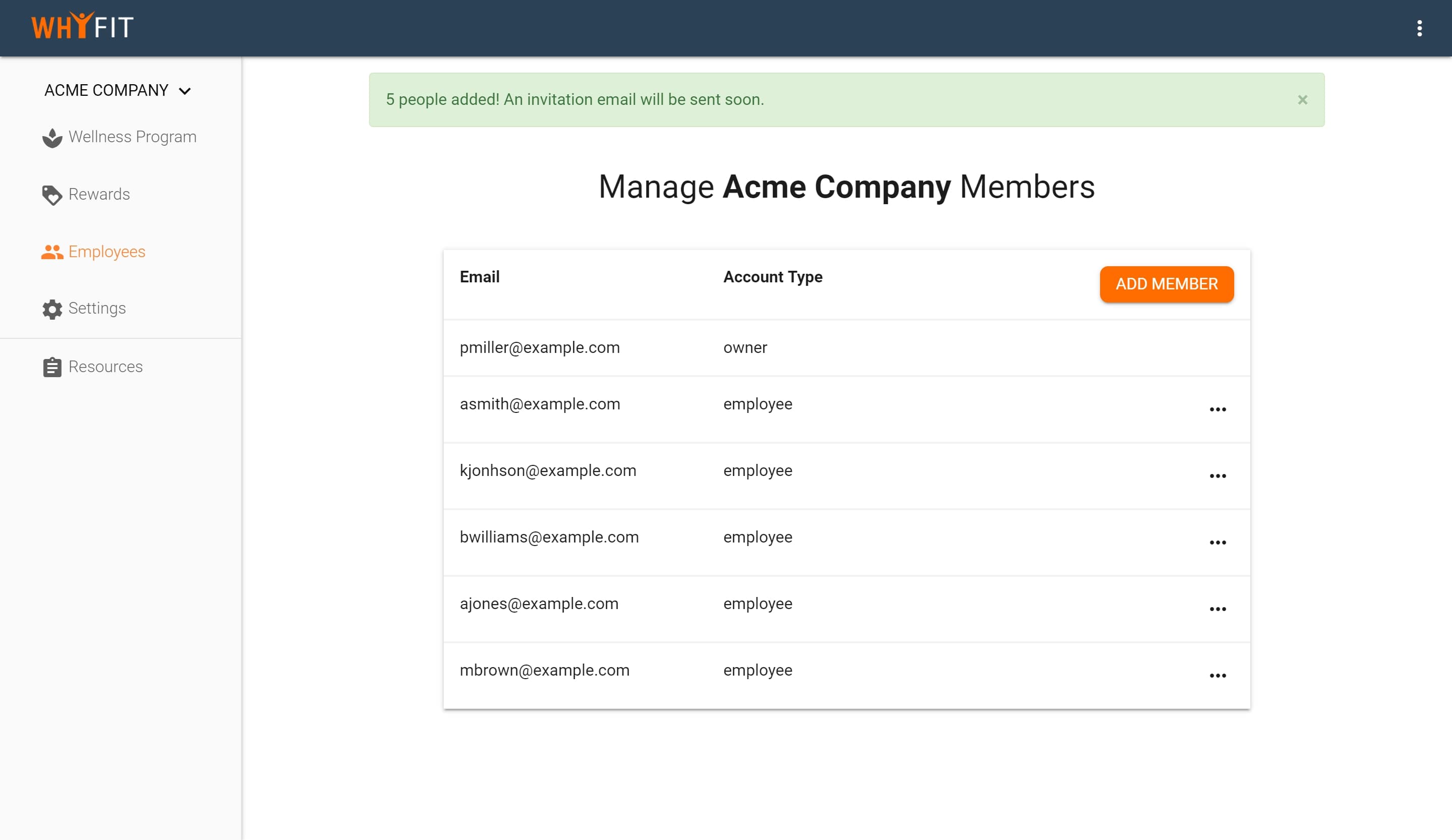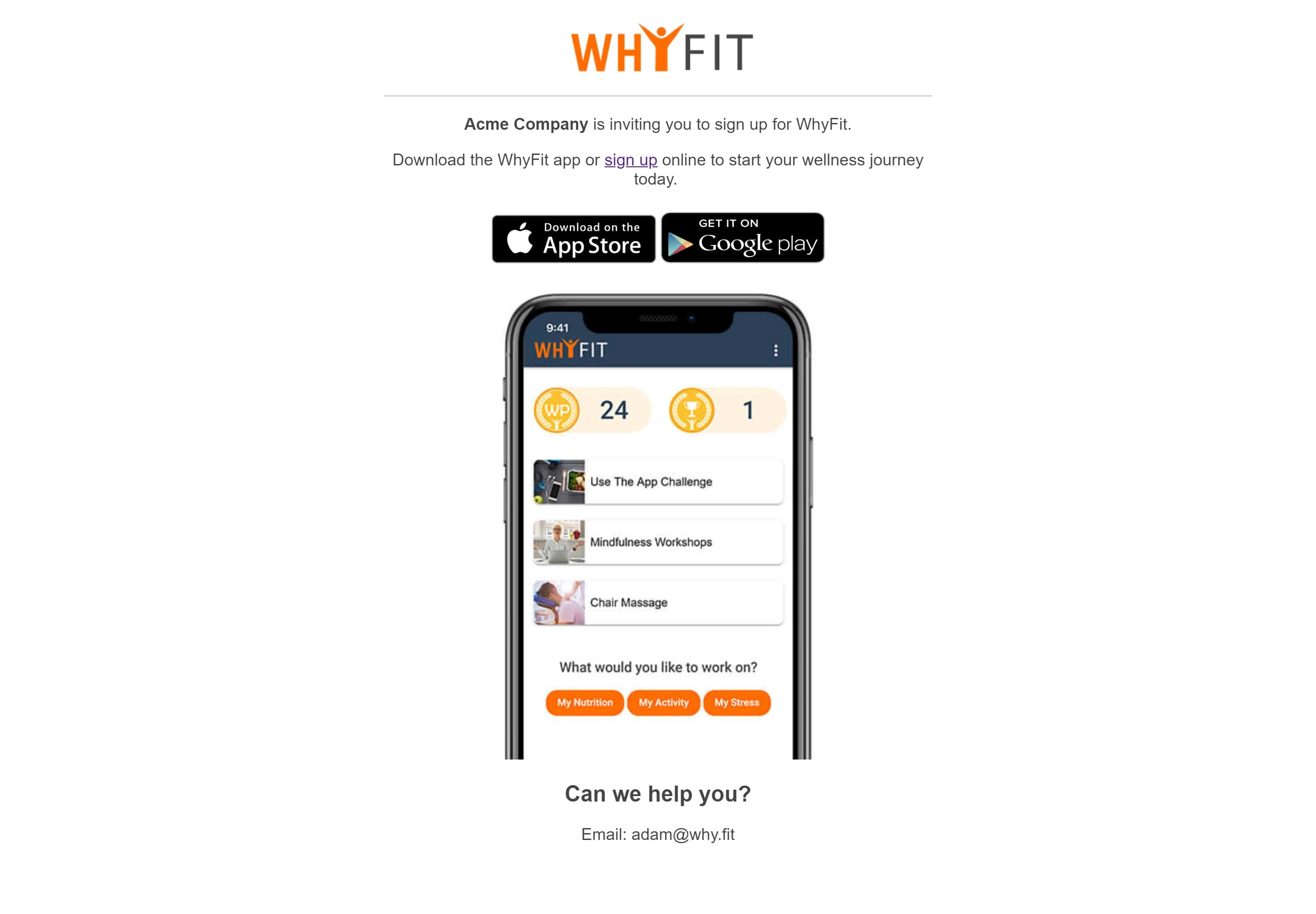 6. Giving admin privileges and deleting employees
You can assign admin privileges to anyone who has access to you organization. An admin is able to add, edit and remove initiatives, rewards and employees in the organizations. Admins cannot add or remove organizations.
To grant admin privileges, click on "employees" on the left side bar. Find the employee's email address that you want to assign admin privileges and click on the three dots at the bottom right hand side of the row. A drop down box will appear where you will need to click "upgrade to admin".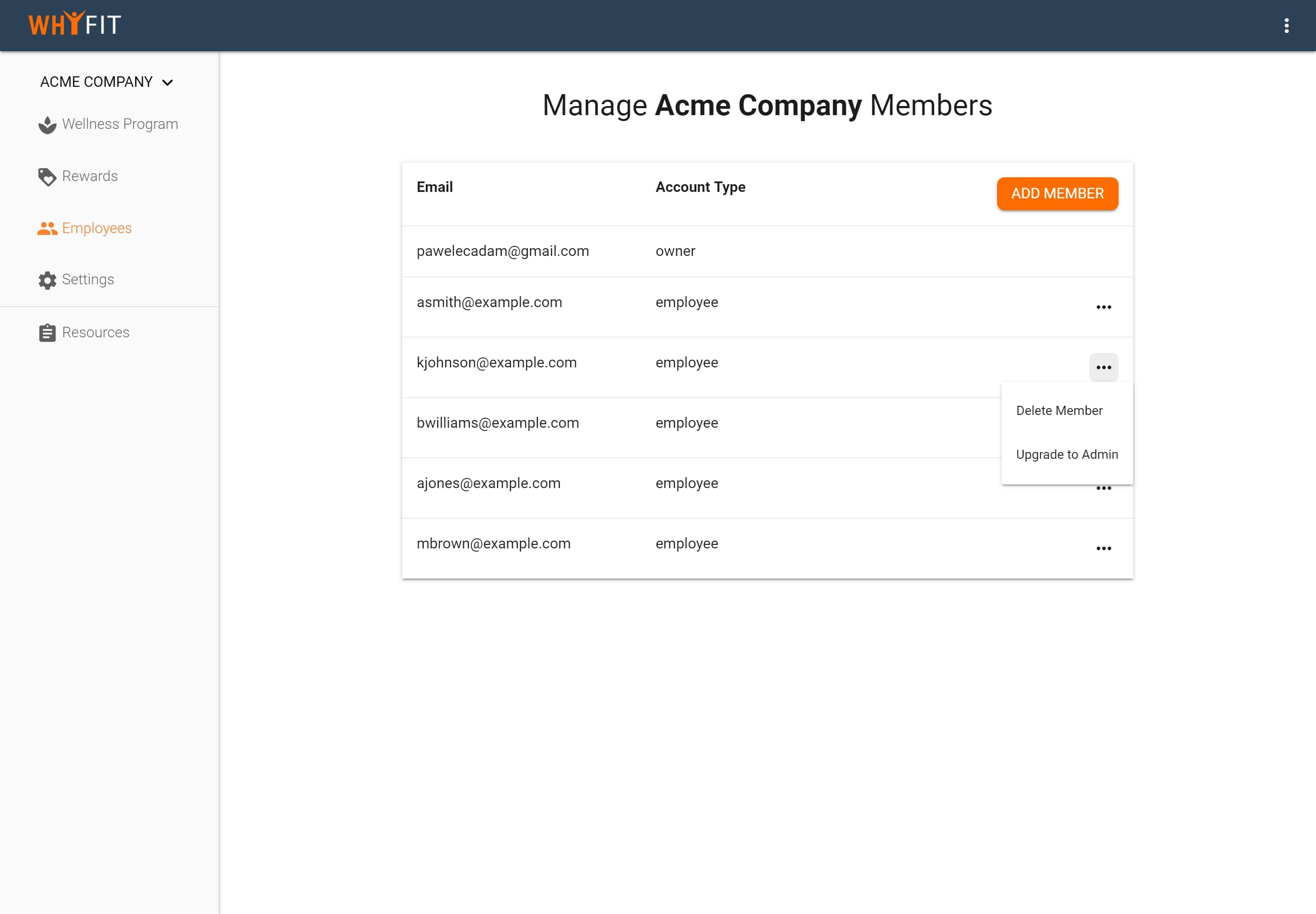 Admins can access an organization's management platform by logging into WhyFit and choosing the organization in the upper right corner.
You can downgrade employees to a regular employee status by clicking on the three dots and choosing "downgrade to employee". At this point, your employee won't have access to manage the organization's platform.
You can delete employees by clicking on the three dots in the lower left corner of a row. Once an employee is deleted from an organization, they will lose access to all company initiatives, challenges and rewards. They will retain their basic WhyFit account.
7. Create custom initiative
You can create your own initiatives on WhyFit. If your organization creates different types of events to help employees live a healthier lifestyle like meeting after work to play flag football, we recommend using this feature to make sure that everyone in the company has access to that information about the event.
To create a custom initiative, go to your organization and click on "create initiative" on the right hand side column.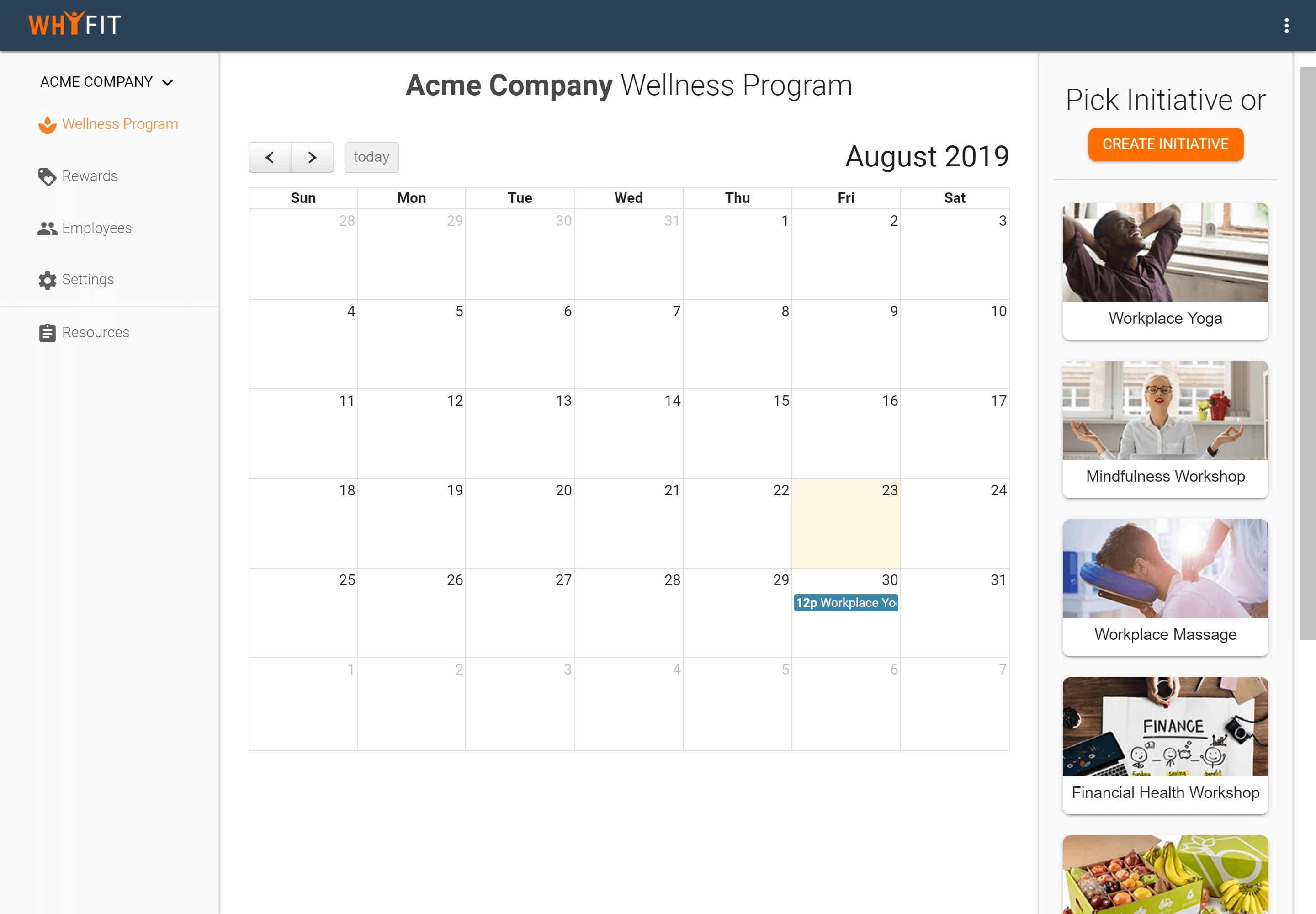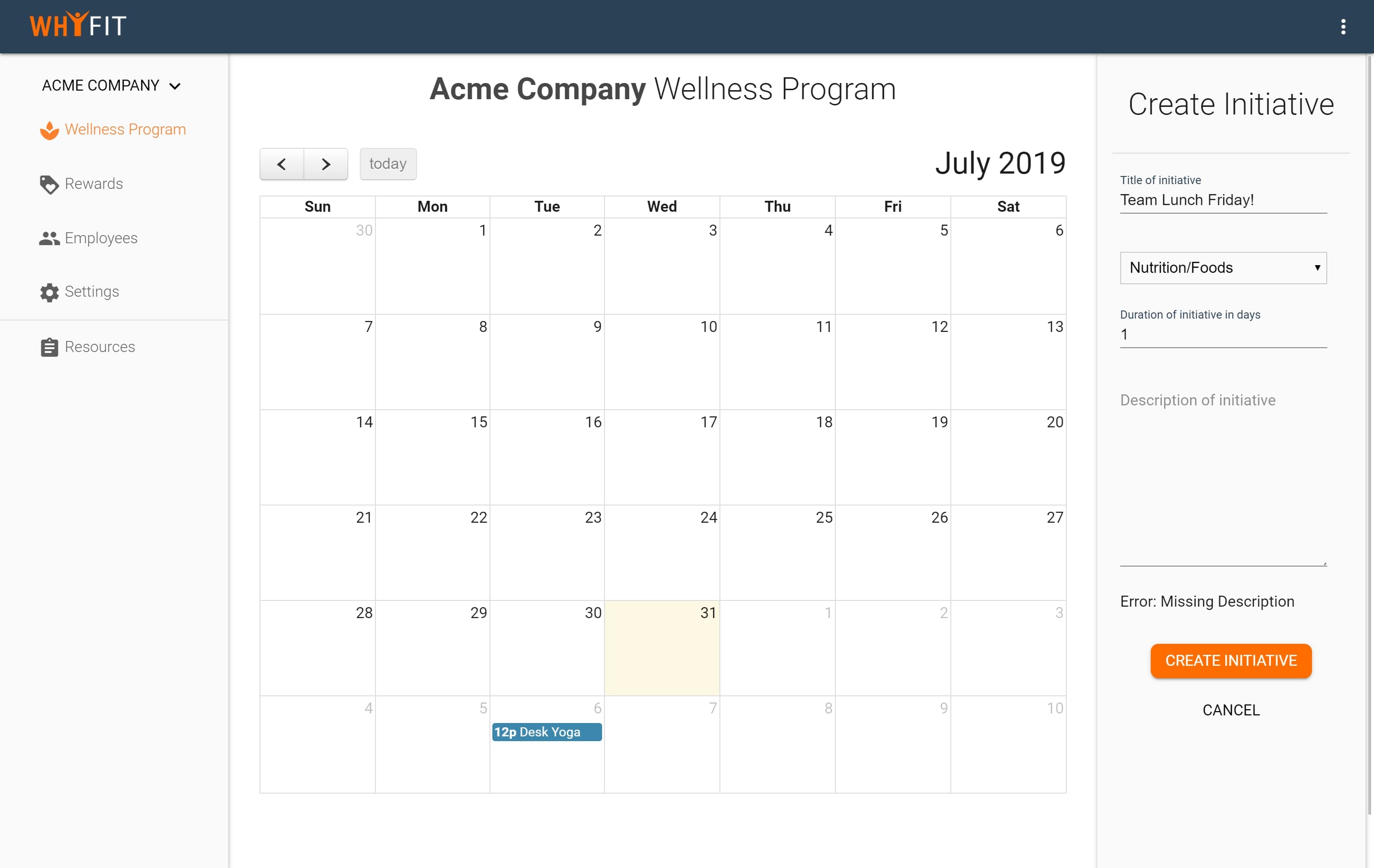 An initiative form will show up with empty input fields to be filled in. The title of initiative will show in the home screen on a tile. Next, choose the type of initiative, you can choose from 5 options (stress management, physical activity, nutrition/foods, workshops/lectures, and other). Next, fill in how many days the initiative will last in the input field. Lastly, type all information that you believe an employee will need to know in the description field.
Click "create initiative" and it will show up at the bottom of all available initiatives in the right hand column.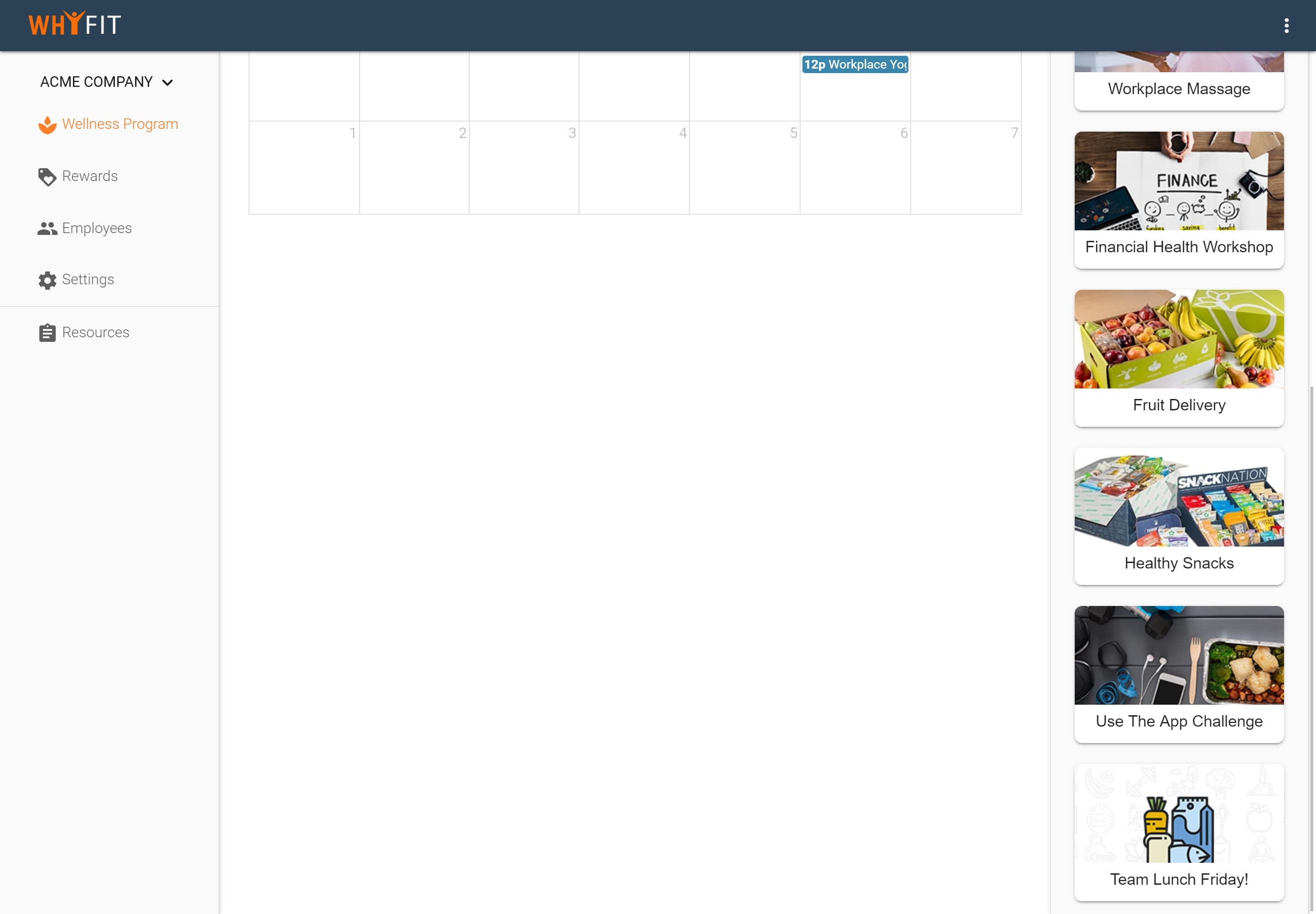 Click on the newly created initiative and fill out the start date and location like you would scheduling any other initiative. Click "add initiative" and it will show up in the calender and also on employees' homescreen seven days before start date.
8. Communication
Communicating wellness initiatives and events are crucial for the success and engagement of a wellness program. We do a lot in the background so you don't have to, but we also give you options to help you in communicating changes and additional information to your employees.
What we do to communicate your wellness program:
We send an email about an initiative seven days before its start date, as well as on the day it begins.
We push out notifications about an initiative seven days before its start date, as well as on the day it begins to all employees that have the WhyFit app installed on their phone.
What can you do to communicate your initiatives:
You can send an email to all your employees about specific initiatives. You can use it to update people or remind them about participating in it.
To do this you need to click on a scheduled initiative. Under the event's title there are three icons: envelope, printer, and a bell. Click on the envelope icon. This will bring up a pop up where you will be able to send out an email by filling out a form. The email will be sent out to all employees in the organization.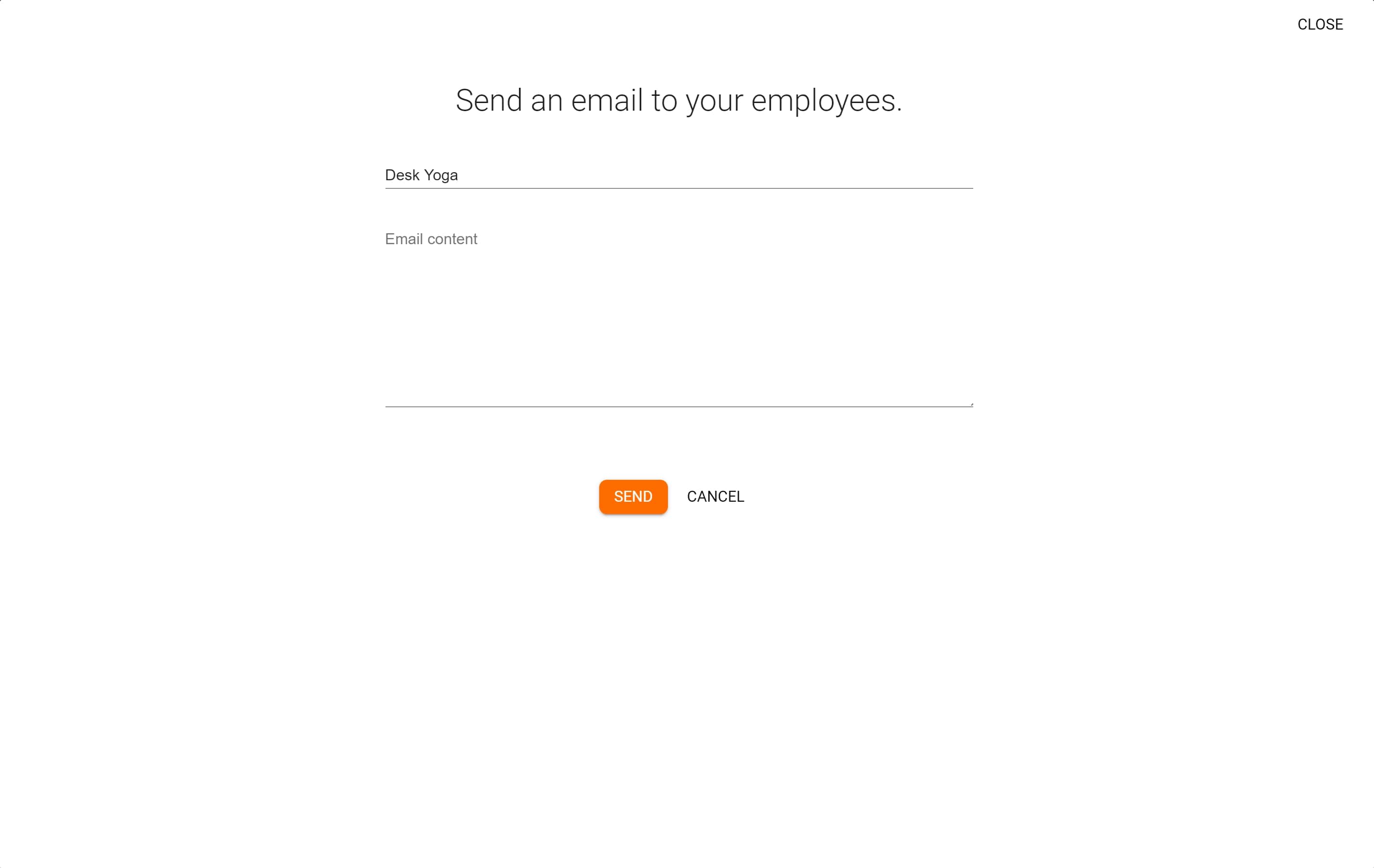 You can also send out an extra notification to all employees that have the WhyFit app installed on their phones and allow notifications.
To do this, click on the bell icon. This will bring up a pop up where you will be able to send simple notifications by filling out the form. If you want to send a notification immediately, set it for today's date otherwise the notification will be sent on a specific date, at a specific time.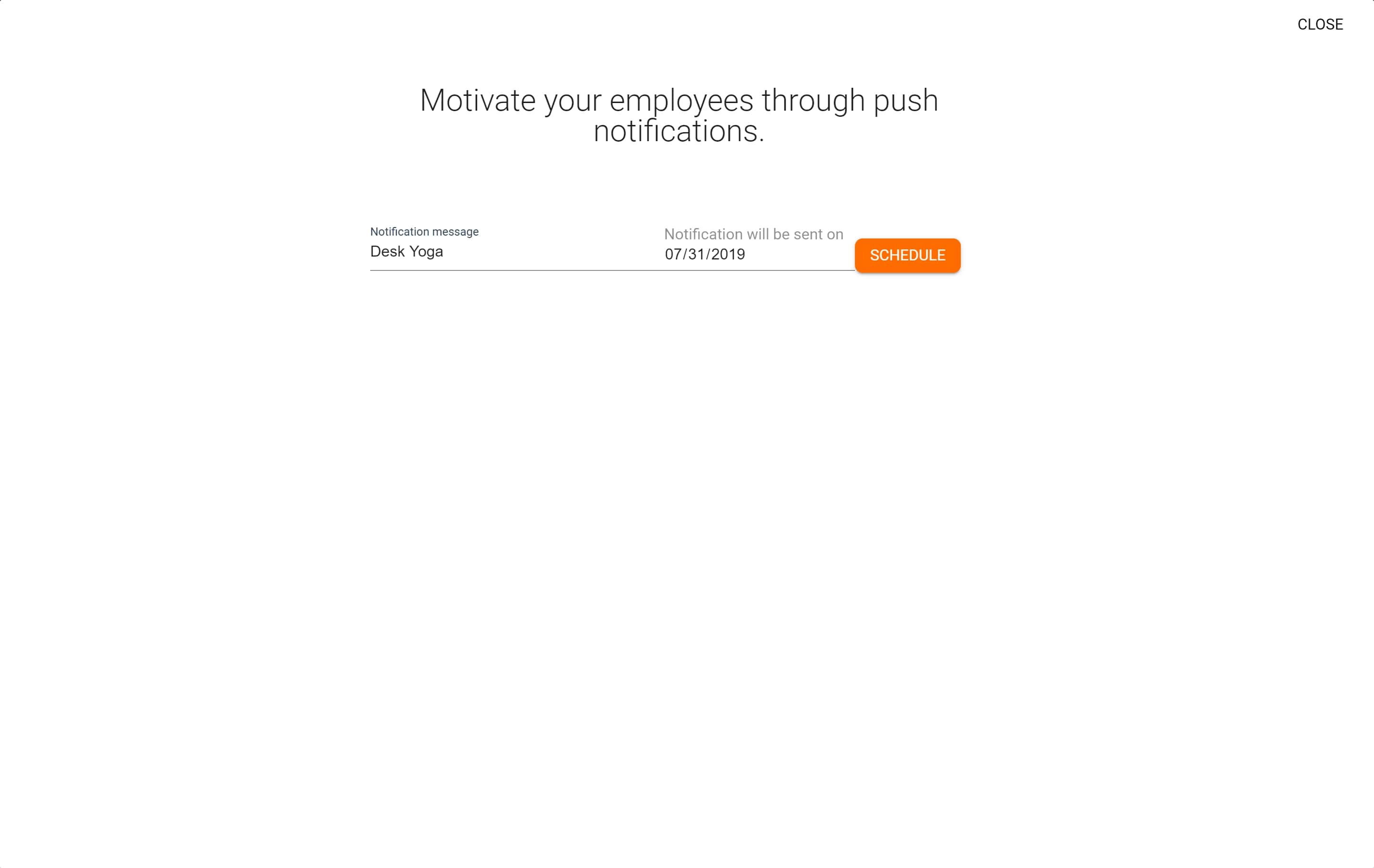 You can also print out custom posters that shows the title, date and location of the initiative. Printing out a poster is a great way of promoting the wellness program on-site at a company.
Click on the printer icon. This will bring up a pop up where you will be able to see a preview of the initiative's poster. Click "print" and it will bring up a standard printer dialog.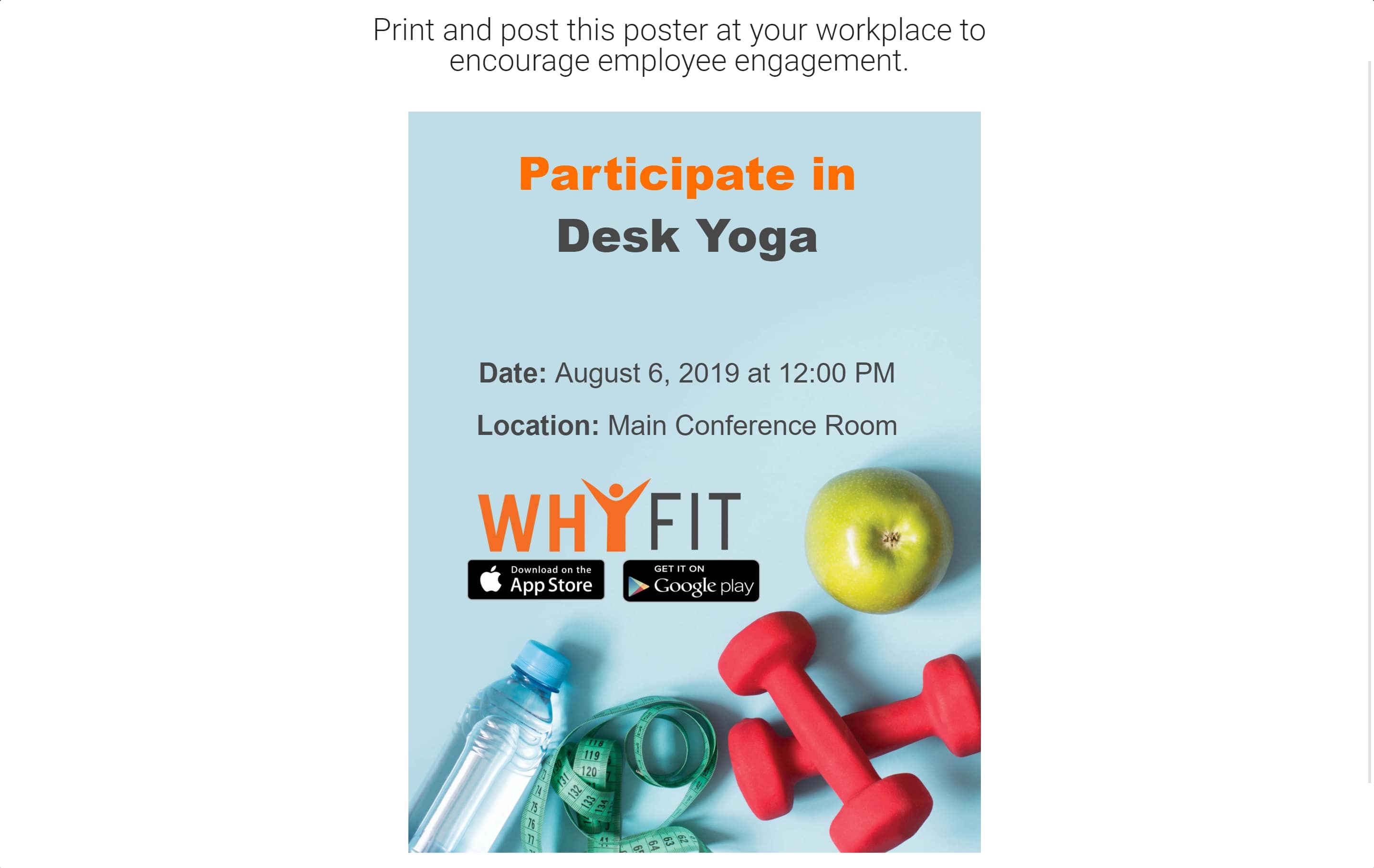 Improve employee happiness, engagement and productivity by offering wellness benefits